What equipment is needed from manual palm oil processing to automation?
Due to high consumption of palm oil, the palm market is very broad, and the palm oil industry is also an enduring industry in the world. At the beginning, people extract palm oil by hand. Gradually, manual palm oil pressing were far from being able to meet the demand. Faced with this situation, mechanized and fully automated palm oil processing facilities have become the most desired facilities for all palm oil producers. Henan Glory Company can provide palm oil processing machine with various capacities. The following are two schemes for you to choose.
Scheme 1: For small palm oil workshops, our company has 500kgph palm oil press and 1-2tph palm oil presses.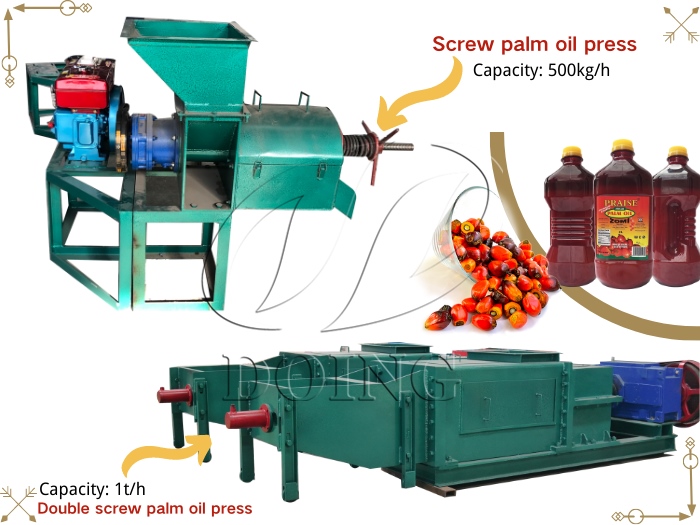 Two types of palm oil presses
Advantages: 500kg per hour palm oil pressers has two types, one is diesel palm oil pressers and the other is electric palm oil pressers, which meet different processing needs. 1-2 tons of palm oil presses owns high oil yield and can be equipped with palm oil production line.
Scheme 2: For large processing capacity, we have 1-20tph palm production line, our complete palm oil production line includes: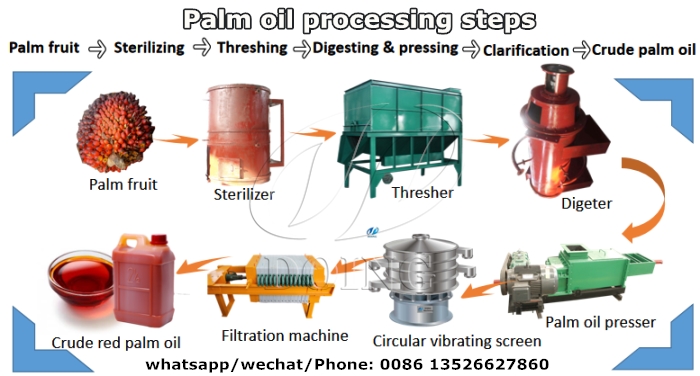 Palm oil production line
1 Sterilizer
The palm fruit would be put into sterilizer after weighing, and would be steamed for about one hour. The process aims to avoid going bad for the palm bunches, and help to strip palm later.
2 Threshing machine
These palm fruit would be stripped by the threshing machine.
3 Digesting machine
The part is to separate the flesh and kernel and crush the flesh of the palm fruit.
4 Pressers
This is the key part of palm oil processing progress. Palm oil pressers would make palm oil by physical extrusion. Crude palm oil and a mixture of palm fiber and palm kernels are produced by pressing.
5 Oil clarification machine
In this part, we need three machines, which are clarification tank, vibrating screen and plate filter. The part is to clarify and filter the crude oil from pressing. So we can get the better and cleaner palm oil.
6 Vacuum drying system
The part is to put the palm oil into the vacuum drying system to evaporate the water in the crude palm oil.
7 Crude oil storage tank
It is mainly used to store crude palm oil.
Advantages: Complete set of palm oil production machines can make better quality of palm oil, and owns higher automation, easy operation.
Generally, in order to improve the quality of palm oil and meet consumer need, many businesses will choose to refine red palm oil. Refining equipment can be divided into types, including batch type, semi-continuous and continuous refining equipment according to its processing capacity. Batch type refining machine's capacity is 1-10tpd, and semi-continuous one is 20-50tpd, continuous refining equipment is 50-600tpd. The following is the detailed work flow.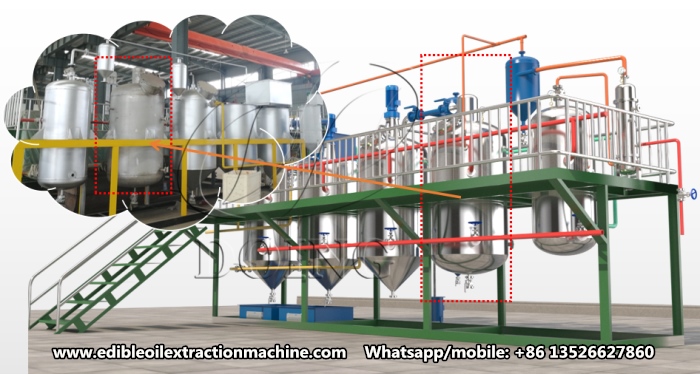 Palm oil refining plant
Step 1. Degumming
Generally, crude palm oil has less gum, adding phosphoric acid solution to crude palm oil can make peptized impurities into agglomerates, and the peptized impurities can be removed after sedimentation.
Step 2. Deacidification
Palm oil refining equipment generally uses chemical deacidification to remove free fatty acids, which is to add lye to crude palm oil to neutralize it with free fatty acids. The soap would be formed after neutralizing, which be removed after edimentation, thereby the free fatty acids is removed. So the quality of palm oil is better and the storage time is longer.
Step 3. Decolorization
The specific operation process of decolorization is to add clay to crude palm oil to absorb pigments and other impurities in the oil, and then use the leaf filter to filter out the waste clay in the oil. So the color of palm oil is clearer and is more attractive to palm oil consumer.
Step 4. Deodorization
Deodorization is to inject direct steam into crude palm oil, and take advantage of the difference in volatility between oil and odorous substances to take away odors. After deodorization, the quality of palm oil is improved, and the smoke point and stability are also improved.
Henan Glory Company, a leading company in China's cooking oil processing industry, have 11 years experience in R&D, production, manufacturing, export and installation of palm oil processing equipment. If you contact us, we would supply a customized palm oil processing scheme for you.
Leave A Message
If you wanna to get more details about What equipment is needed from manual palm oil processing to automation?. you can send E-mail to palmoil@doinggroup.com. And you also can leave a message in below form. We will back to you ASAP once we got your message.